Nissan Rogue Dash Cam Buyer's Guide - Tips from FITCAMX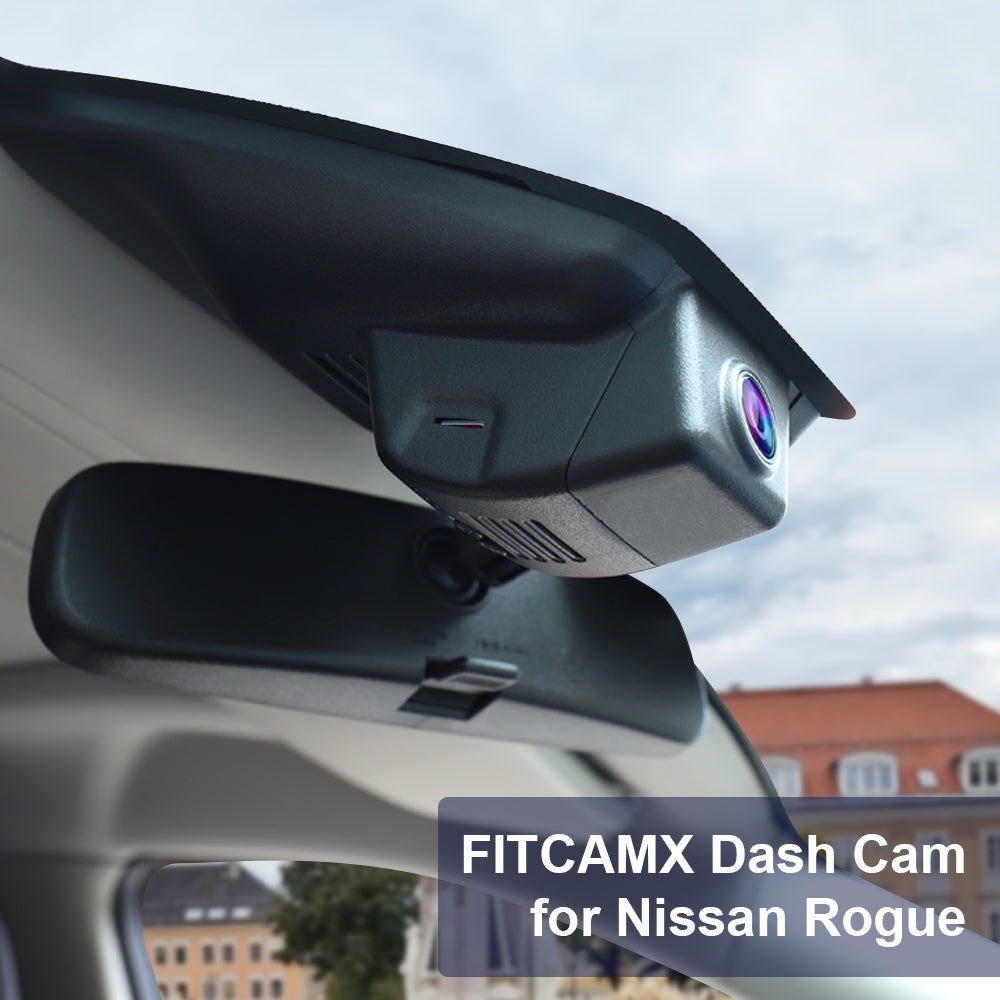 Have you ever searched for the perfect dash cam for your Nissan Rogue, only to be overwhelmed by the countless options available? Your search has come to an end. At FITCAMX, we specialize in custom fitment dashcams designed for various vehicle manufacturers, including Nissan. This definitive guide provides you with insights, tips, and recommendations, making the process of finding the right dash cam for your Nissan Rogue less daunting and more rewarding. Let's journey together to ensure your vehicle is well-equipped for the road ahead.
Understanding the Importance of Dash Cams
When it comes to enhancing the safety, security, and convenience of your driving experience, installing a dash cam in your Nissan Rogue is a wise move. But why should every Nissan Rogue owner consider installing a dash cam?
Why Every Nissan Rogue Owner Should Consider Installing a Dash Cam
Dash cams have become an essential car accessory due to numerous compelling reasons. Firstly, they provide important video evidence in the event of an accident, helping to resolve insurance claims more efficiently. Secondly, they can deter car theft or vandalism by acting as an effective security system while your vehicle is parked. Also, dash cams can come in handy in capturing unexpected events on the road, ranging from scenic drives to meteors streaking across the sky. All these benefits, combined with an easy-to-install custom fitment dash cam designed specially for Nissan Rogue, make it a prudent investment.
Evaluating Dash Cam Specifications
The next crucial step in acquiring a dash cam is understanding and evaluating its specifications. The Right Resolution, Auditory Perception, and the Field of View are three primary specs you should consider.
The Right Resolution: The Significance of 1080p, 2K, 4K
Higher the resolution, clearer the footage. Dash cams with 1080p resolution (Full HD) are currently the standard and provide decent quality for your daily use. But if you want a much more detailed, clearer footage, consider looking for dash cams offering 2K or even 4K resolution. High-resolution dash cams help in capturing key details like license plates, people's faces, and street signs much clearer.
Auditory Perception: Understanding the Value of Inbuilt Microphones
A microphone adds another layer to your recorded footage by including audio along with the video. This can be especially useful when you need to take verbal notes while driving or want to record any incidents that involve conversations, police interactions, or audible signals.
Field of View: Why a Wider Coverage Matters?
The field of view indicates how much area the dash cam can capture. A wider field of view usually means the camera is able to record events happening not only directly in front of your car but also around the sides. It ensures that important events are not missed out and provides a more comprehensive picture of any occurrence.
Taking a firm decision on these parameters can guarantee you choose the dash cam that suits you to perfection. Remember, the decision should not be just based on the series of spec features, but how those features can serve your unique needs and enhance your driving experience.
Loop Recording Feature
With this feature, when the camera runs out of memory, it automatically overwrites the oldest footage. It assures that the dash cam never stops recording due to a full memory card, thus capturing all crucial moments during your drive.
Night Vision
This is a valuable feature to consider as several accidents occur during hours of low light. A dash cam with excellent night vision capabilities provides a clear record of activities, even when you're driving in poorly lit areas and nighttime conditions.
Parking Mode: Security Even When Parked
Is my car safe when left in a public parking space? This question often nags every car owner. Fortunately, when it comes to FITCAMX Dash Cams, they come with a built-in parking mode. This means even with your Nissan Rogue shut, your camera continues to monitor activity. Upon detecting movement, the camera automatically starts recording, which can be especially useful in case of theft or hit-and-run situations.
Choosing the Ideal Dash Cam for Your Nissan Rogue
The FITCAMX Advantage: Why Our Custom Fitment Dashcams Stand Out
FITCAMX offers the leading edge in dash cam technology. Unlike standard models, our custom fitment dashcams are tailored precisely to your vehicle — in this case, the Nissan Rogue. We understand that each car's design and specifications are unique, which is where our expertise shines brightest.
Our dashcams deliver unmatched image quality while sitting seamlessly with your vehicle's rear view mirror trim. It doesn't obstruct the driver's view, ensuring the safety and innovation go hand in hand. Furthermore, high-resolution video recording guarantees the smallest details will not escape the eye of your FITCAMX dashcam so you can drive with confidence.
Compatibility Considerations: Making Sure the Dash Cam Fits Your Nissan Rogue
While choosing a dashcam for your Nissan Rogue, you need to ensure it is a perfect fit. For all Nissan Rogue models, FITCAMX's dashcams are designed to blend into the dashboard seamlessly, making them almost invisible.
Not only should the dashcam fit into your vehicle's aesthetic, but it should also operate seamlessly with the electrical system. Our FITCAMX dashcams are designed to work seamlessly with your vehicle's power supply, and won't affect other electrical functions.
Before making your final decision, review your vehicle's specifications and compare them with the dashcam's requirements. Our support team is also readily available to answer any further compatibility queries.
The Installation Process
DIY Installation: A Step by Step Guide
Installing a FITCAMX dashcam in your Nissan Rogue can be a DIY task. The process is straightforward:
Using the supplied pry tool, pry off the rear view mirror plastic trim.

Disconnect the rear view mirror wiring harness.

Connect the supplied FITCAMX wiring harness to the original wiring harness.

Connect the FITCAMX dashcam to the FITCAMX wiring harness.

Snap the new FITCAMX dashcam in place.

Download the FITCAMX app and pair it with your dashcam to access additional settings.
Remember to refer to the installation guide that comes with your FITCAMX dashcam. It provides detailed instructions and visuals to guide you through the process.
Simple Dash Cam Maintenance Tips
Maintaining a dashcam is relatively straightforward. Here are a few easy tips:
Consistently clean the lens: A clean lens ensures clear footage. Use a lens cleaner and a soft cloth to wipe away any dust or smudges on your dashcam lens.

Regularly check storage: Dashcams record numerous files that can fill up storage quickly, especially those with high resolution. Frequently check your dashcam's storage capacity and clear out unnecessary files. Some dashcams feature loop recording, which automatically overwrites the oldest footage when storage is full.

Safeguard from extreme temperatures: Excessive heat or cold can adversely affect your dashcam's performance and lifespan. Whenever possible, park in shaded areas during hot weather and use reflector shades on your windshield. During cold seasons, consider removing the dashcam when not in use.
---